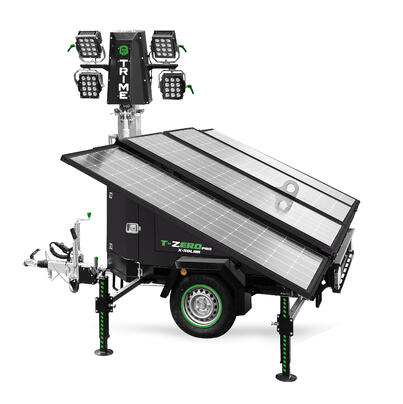 15 July 2022.
Solar Lighting on Construction Sites
Over past few years there has been a significant move by leading UK construction organisations to reduce their carbon footprint. Many of these firms have set challenging targets to become zero carbon in operations, some in just a few years from now.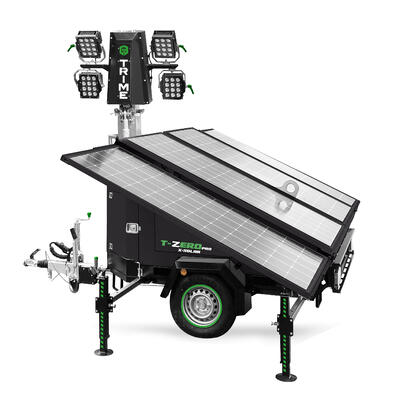 To commence their journey to nett zero, many construction firms are using 'eco' style site cabins and sourcing site electricity from renewable sources. In addition, construction companies are seeking to reduce or even eliminate fossil-fuelled powered plant and machinery. These actions have put pressure on hire firms to re-examine the management of their hire fleets and in turn seek out manufacturers that are building site machinery that is powered by renewal energy.
Proper illumination on a construction site is important for safety and security purposes. With an increasing call for lighting to be made available 24-hours a day, having a diesel engine running continually throughout the day and night will undoubtedly contribute negatively to a site's environmental impact plan.
Italy's Trime Group is a leading manufacturer of lighting towers for the worldwide construction markets. Since Trime's inception the focus has always been on producing lighting sets that use less fuel, lower carbon emissions and cut down noise pollution.
The drive to build sustainable lighting products, culminated in the production of a solar-only powered site lighting tower, which was firmly aimed towards the global construction rental markets.
The Trime X-SOLAR lighting tower is entirely noise and emission free. The X-SOLAR is powered by four 335 watt independent solar panels and a series of powerful AGM batteries. Illumination is from energy saving LED lamps, which cover an area of 2000 sq.m. The X-SOLAR is one product in a range of sustainable lighting sets marketed under Trime's T-ZERO PRO brand.
Paul Hay, Trime UK's managing director notes, "We are have experienced a considerable increase in demand from rental firms for our sustainable lighting sets, and in particular the diesel-free X-SOLAR. We believe that in part this activity is due to requests from construction organisations, however, we also can see that many rental firms are encountering the benefits of non-fossil-fuelled powered lights, in terms of less internal maintenance, on-site servicing and repairs."
The Trime Group is a market leader in the manufacture and supply of environmentally sustainable lighting sets for the construction, event, rail and utility markets. Trime UK is headquartered in Huntingdon, Cambridgeshire; their manufacturing plant is based near Milan, Italy. In line with some leading car manufacturers, the company has stated that they will phase out all fossil-fuel equipment and, by 2025, only offer emission-free machinery.