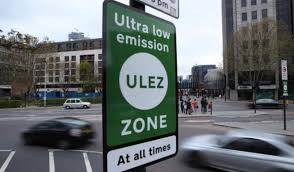 21 August 2020.
London's Low Emission Zone
Non-Road Mobile Machinery (NRMM) is a broad category which includes mobile machines, and transportable industrial equipment or vehicles which are fitted with an internal combustion engine and not intended for transporting goods or passengers on roads. NRMM, particularly from the construction sector, is a significant contributor to London's air pollution. The NRMM Low Emission Zone uses the Mayor and London Borough's planning powers to control emissions from NRMM used on construction sites. The NRMM rules apply to a wide range of movable construction equipment including excavators, bulldozers, piling rigs, dumpers, generators, compressors and mobile cranes. The GLA has said these are responsible for 15 per cent of local PM2.5 particle emissions and represent London's fifth largest source of harmful nitrogen oxides.
The NRMM Low Emission Zone requires that all engines with a power rating between 37 kW and 560 kW meet an emission standard based on the engine emission "stage". Although, the standards that need to be met depend on where the construction site is.
On top of this, the standards for the NRMM Low Emission Zone will get progressively tighter over time. From 1 September 2020 the standards will be stage IV for construction machinery operating in the Central Activity Zone, Canary Wharf and Opportunity Areas and stage IIIB in the rest of London. From 1 January 2025 the standards will be stage IV throughout London. From 1 of January 2030 the standards will be stage V throughout London. From 1 of January 2040 only zero emission machinery will be allowed. Stages IIIB and IV have not been defined for machines with constant speed engines, such as generators. This means that these machines will need to meet stage V from September 2020 by default.
Although, in response to the ongoing disruptions caused by COVID-19, a 'time limited' exemption from the new standards for a period of six months between the 1 September 2020 and the 28 February 2021 has been put in place. As the pandemic has made it incredibly difficult for construction and hire companies to prepare for the new NRMM Low Emission Zone standards.
Air pollution contributes to 40,000 early deaths in the UK every year and has been linked to asthma, restricted lung growth in children, cardiovascular issues, strokes and dementia among other poor health outcomes. Stricter emission regulations should help to clear up the capital's air.
At Trime, we have four key Greenline models which include the X-ECO, the X-Hybrid, X-Battery and X-Solar Hybrid. In comparison to older, metal-halide lighting towers, our Greenline range offers many reductions in fuel and increased run-times with the best innovative technology available.