22 February 2022.
We take pole position with the new T-ZERO X- POLE SOLAR PRO lighting tower
We have expanded our T-ZERO range with the introduction of a brand new tower light, the X-POLE SOLAR PRO.
The Trime X-POLE SOLAR PRO is a brand new emission and noise-free lighting tower. It is an upgrade on the original X-POLE SOLAR, with a whole host of new features and benefits. X-POLE SOLAR PRO features a single 40watt high luminous, energy-saving LED lamp fitted to a 5.5metre mast that delivers an illuminated area of 400 sq.m. Power to the 110Ah (Absorbent Glass Mat) AGM battery is via a high efficiency and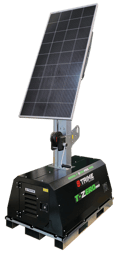 multi-directional (in three positions) solar panel which is fully protected against most weather conditions. There is also a useful battery level indicator.
The X-POLE SOLAR PRO is fitted (as standard) with an automatic start-up PIR operation, together with handy dimmable lighting. It offers extensive running times of 15 hours at 100% illumination and 58hours in dimmed operation. The complete unit has tough galvanized metal works of 80 μm attractively finished. There are also galvanized forklift pockets base for safe, effective manoeuvrability from all sides. There is also a handy central lifting hook.
The X-POLE SOLAR PRO is ideally suited to provide zero-emission lighting in a variety of situations, including construction sites, outdoor events, car parks, and anywhere else that needs energy-saving, noise-free illumination,
We also have on offer some optional features for the X-POLE SOLAR PRO including; a telemetry system for remote location and operational monitoring.
The Trime X-POLE SOLAR PRO is just one product in a complete lineup of sustainable, fossil-fuel-free lighting towers.