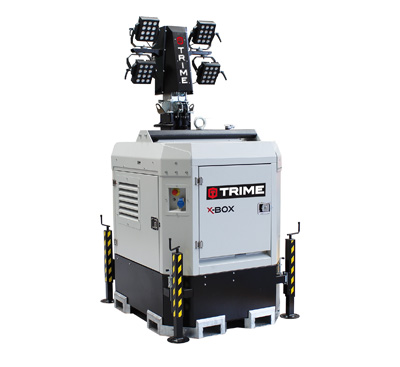 14 June 2022.
St. George's School evening rugby sessions illuminated by our lighting towers
St George's Weybridge, a leading independent co-educational Roman Catholic day school based in Surrey, has invested in six X-BOX lighting towers.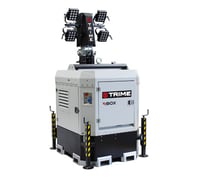 With sporting activities high up on the school curriculum, the school identified a need to increase the illumination on a rugby pitch that was used for regular evening training. An internet search led their grounds manager, Rob Deacock, to the Trime website.
Following discussions with our sales manager, Mark Taylor, the school opted for the X-BOX lighting sets, which Mark deemed to be best suited for the school's requirements.
Commenting on this investment, Mr. Deacock said, "Originally we were looking at the X-ECO HYBRID lights, however, after discussions with Mark we both felt that the X-BOX product with four 320-watt LED lamps was the best option for our application."
The X-BOX is a diesel-engined static tower light. The unit can be fitted with a variety of energy-saving LED lamps fitted to a galvanised 9-metre mast. The X-BOX features a lighting sensor that automatically switches on the lamps as the natural light descends. For additional safety, the X-BOX has an external emergency stop button, together with a fully bunded tank that guards against ground contamination. The complete unit has certified wind stability up to 110 km/h. Aside from lighting up sports fields, the X-BOX lighting set is ready for illuminating construction sites, outside events, trackside, and quarries.
Mr. Deacock added, "In the future, these lighting towers may well be used for our other sporting activities such as netball or athletics. We received excellent service from Trime throughout the whole process."
St George's Weybridge is a leading independent co-educational Roman Catholic day school in Surrey. Founded in 1869, they offer a values-led education for all aged 3-18. St George's Weybridge's mission is to inspire students in their Josephite, Georgian Family to be the very best version of themselves.