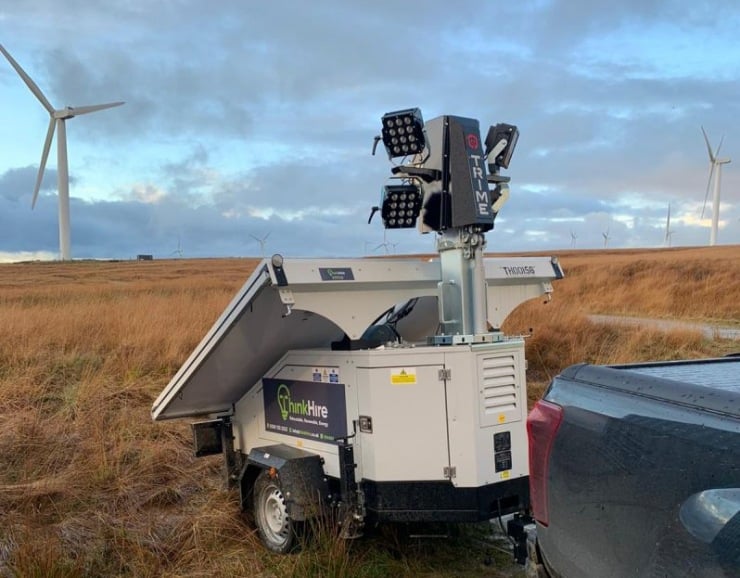 21 June 2022.
Solar energy and lighting specialists, ThinkHire, add more of our lighting towers
ThinkHire, one of the UK's leading suppliers of solar energy and lighting has enhanced its hire fleet of solar-powered lighting towers.
ThinkHire currently has fifty of our X-SOLAR sets available to rent, with a further twenty units scheduled for delivery in the coming weeks.
Neil Richardson ThinkHire's managing director said, "We worked closely with the Trime team to enhance the functionality of the X-SOLAR lights, which now incorporates our own fleet management system".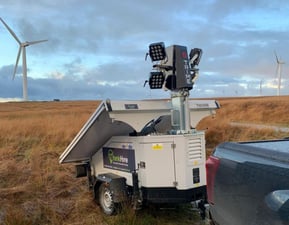 "In the past, we did examine a number of other lighting systems however we found that the Trime X-SOLAR easily out-performed all the others over the trial period. The X-SOLAR has also proven to be the most reliable that we have operated to date, and, like us, the Trime team is incredibly customer-focused. In general, Trime are a very easy company to deal with, they are upfront and honest and work tirelessly to support our needs," added Neil.
The X-SOLAR is a LED lighting tower that is powered by a combination of solar energy and eight AGM batteries. AGM batteries have a very low internal resistance, are capable of delivering high currents on demand, and offer a relatively long service life of up to 4500 hours. The X-SOLAR features four LED lamps that deliver a light coverage of 2400 square metres. Our engineers have calculated that the X-SOLAR will bring significant cost savings and environmental gains when compared to a standard lighting tower. Noise-sensitive areas will profit from the X-SOLAR as it emits zero noise.
ThinkHire's X-SOLAR lights are set to be soon illuminating a number of high-profile infrastructure projects throughout the UK including; renewable energy schemes, highway works, and trackside projects.
ThinkHire was incorporated in May 2018 and has quickly become the pioneer of the 'Solartainer Versatile' range, which is believed to be the world's first adaptable solar hybrid generator. As well as supplying sustainable lighting towers, ThinkHire also provides relocatable renewable energy solutions, solar hybrid power generation, and eco-welfare solutions alongside site establishment products for both hire and sale nationwide. ThinkHire has depots in Greater Manchester, Hertfordshire, and Irvine in Scotland.