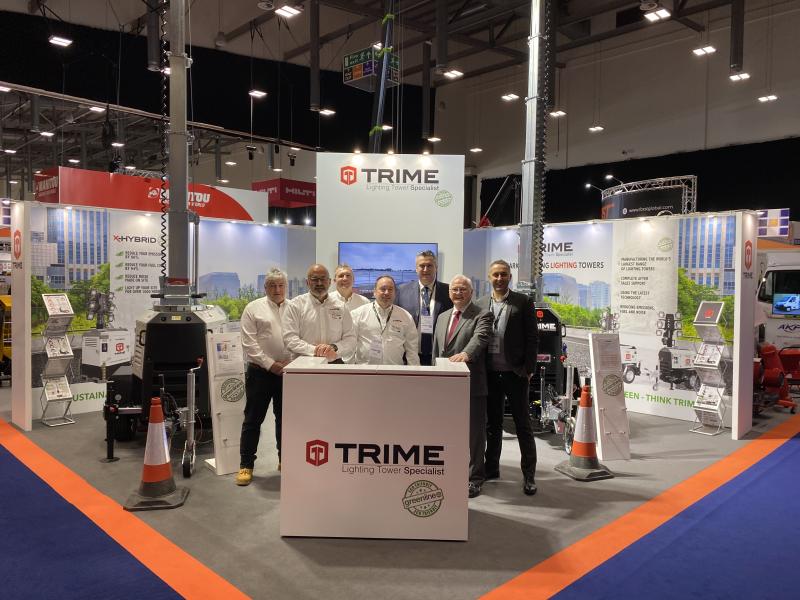 26 February 2020.
Our Lights Shine at the Executive Hire Show
We are celebrating our 'best-ever' Executive Hire Show.
Paul Hay said, "This was an excellent show. High in good quality visitors, who left us with plenty of great leads to follow up."
"But", continued Paul, "the icing on the cake was the amount of orders we received over the two days."
Lighting rental specialists, https://www.illumin8lights.co.uk/ handed us an order for forty X-HYBRID machines and a further order for sixty of our brand new lighting tower the X-ECO HYBRID.
We also unveiled our X-ECO HYBRID at the show. This brand new unit is a ground-breaking hybrid lighting tower that will significantly lower fuel consumption and C02 emissions, whilst continuing to delivery bright, safe lighting levels. The new Trime X-HYBRID is powered by a combination of a series of lithium batteries and a small diesel engine. Lithium batteries have greater a charge efficiency which means the X-ECO HYBRID can be fully recharged in just two hours.
Our X-ECO LED model continues to be a best-seller in the hire industry with both the large national firms and the smaller independent outlets. The event rental company, https://www.energygeneratorhire.co.uk/, added a further twenty X-ECOs to their fleet at the show and topped up their order with the purchase of ten X-ECO HYBRID sets.
Energy Generator Hire now has around 150 X-ECO LED lighting sets in their fleet.
"We fully expect quite a few more orders to come to us, once we have evaluated all our leads and quotations. Our sales teams are going to be kept busy for the next few months," added Paul.
Launched in 2007, https://www.executivehireshow.co.uk/is a national exhibition for the tools, equipment and plant hire industry. The show was held on 6th and 7th February 2020, at Coventry's Ricoh Arena.