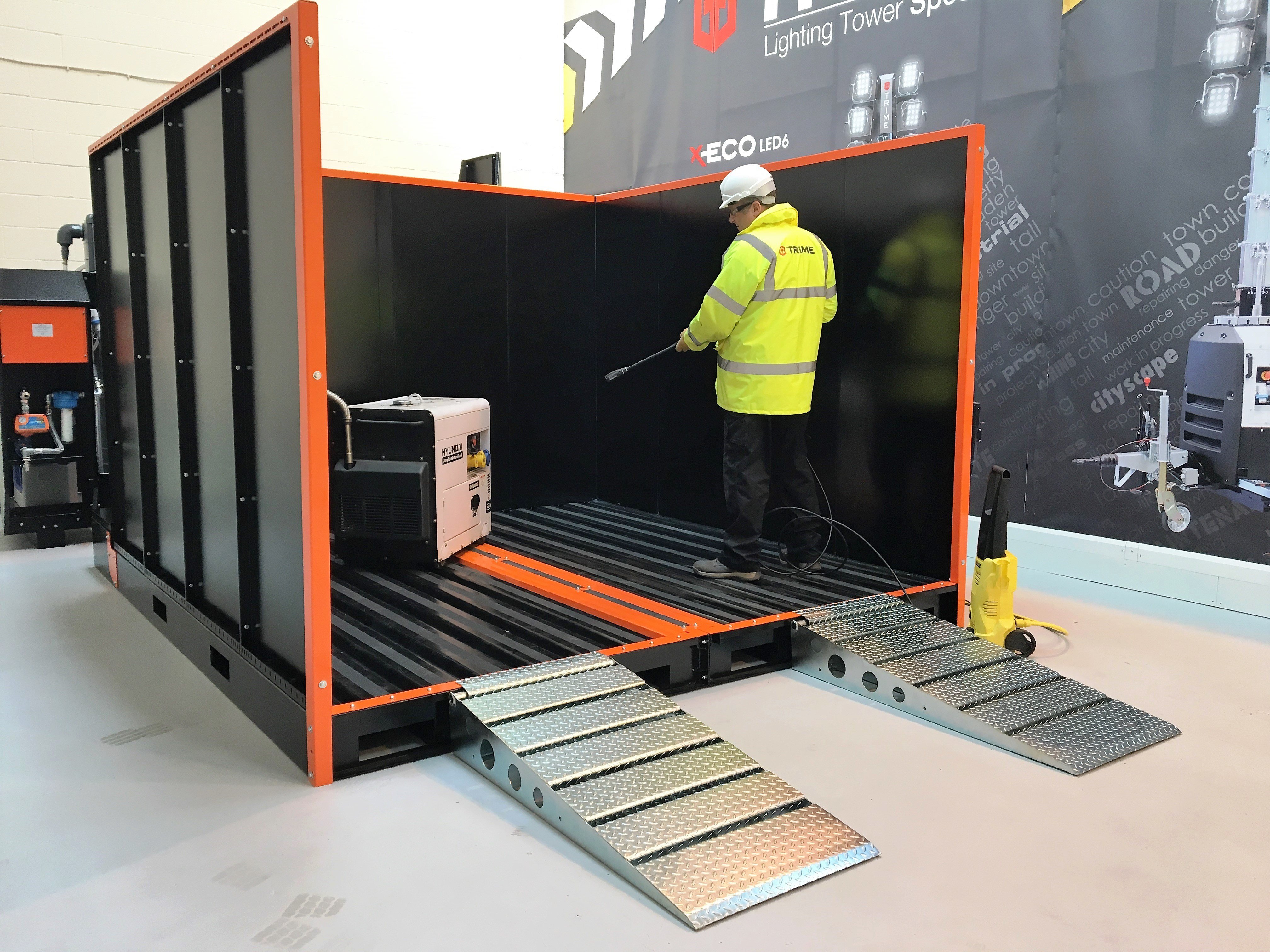 19 May 2020.
Murphy cleans up with our X-SPLASH wash bay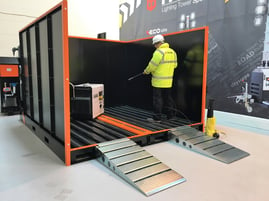 Murphy Plant, part of the infrastructure company J. Murphy & Sons Limited, has invested in a X-SPLASH wash bay.
Murphy Plant currently operates a fleet of our lighting towers and it was during a visit by a delegation of Murphy Plant executives to our UK facility, when they first saw an X-SPLASH working.
Brendan Sugrue, Head of Operations, Murphy Plant explains, "For a while, we have been seeking a more sustainable method to clean our range of plant. When Trime demonstrated their X-SPLASH to us, we were immediately drawn to its water recycling attributes. We soon agreed that the X-SPLASH was the ideal piece of equipment for our requirements."
"The water recycling is the main reason we invested in the X-SPLASH. We worked out that based on our old unit and the time it is in use that we could recycle potentially circa 1 million litres of water annually," continued Brendan.
The X-SPLASH has been installed in Murphy's Hemel Hempstead depot and currently in daily use, cleaning Murphy's range of compressors, excavators, crawler cranes, piling rigs and similar equipment.
The X-SPLASH is an ecological, flexible cleaning system for most types of plant and machinery. The X-SPLASH will help to prevent soil pollution and contamination of drains from oil, grease and other chemical contaminants commonly associated with the regular cleaning of site equipment. The cleaning area is connected to the rear solids collection tank section, which recycles the water through a system of filters, which means that all heavy solids are safely contained and easily removed. From here the dirty water is pumped into the filtration tank where a series of filters removes smaller solid particulates, hydrocarbons and oils. Easy access to both the solids collection tank and filtration tank ensures all contaminates are disposed of properly.
"We had great service from Trime as always. They are a forward thinking and innovative company and that's principal reason why we work with them on the X-SPLASH and their other products," concluded Brendan.
Murphy Plant is responsible for the day-to-day enablement and operation of plant, equipment and transport for Murphy. The Murphy Plant team offer everything from small electrical drills to a 135 tonne crawler-crane, or even specialist equipment within rail, pipelines, tunnelling, marine or ground engineering.