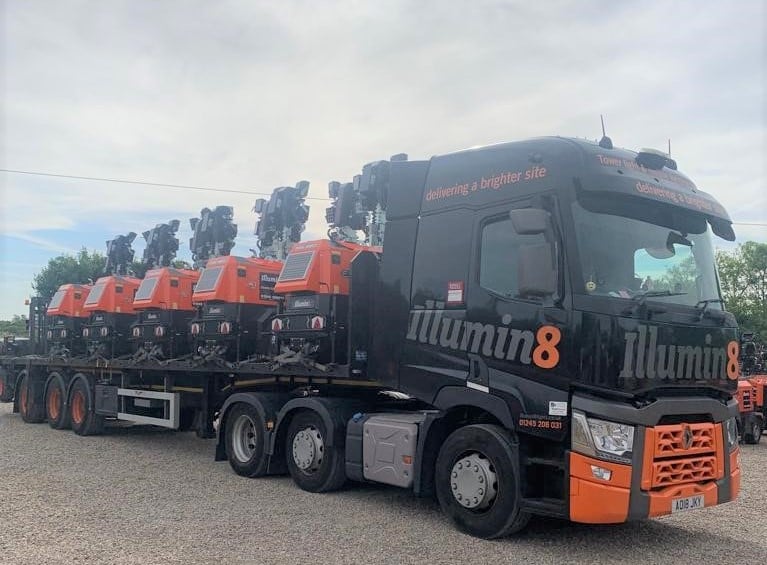 24 May 2022.
Illumin8 Lights go for our X-ECO LITHIUM lighting towers
With the rise in post-pandemic outside events, and the increasing demand for more lighting on construction sites, trackside works, and industrial projects, site lighting specialists, Illumin8 Lights are making preparations to meet these demands with the purchase of thirty-six lighting towers.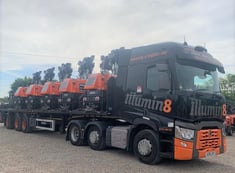 Illumin8 has opted to invest in our latest development, the X-ECO LITHIUM. Powered by advanced lithium battery technology, the X- ECO HYBRID LITHIUM can be fully recharged in less than two hours. This means that in a ten-hour cycle, for 80% of operation, the X- ECO HYBRID LITHIUM is powered exclusively by its batteries, and therefore emits zero noise and zero carbon emissions. Illumination is via six energy-saving, long-lasting LED lamps, which deliver an illuminated area of over 3000 square metres. The X- ECO HYBRID LITHIUM is very compact meaning that twelve units can be delivered on one single truck.
Uniquely, Illumin8's X-ECO LITHIUM sets are fitted with a solar panel that aids emission-free battery charging. This makes these lights three times more efficient than standard hybrid lighting towers.
Neil Fenwick, founder and Managing Director of Illumin8 said, "Our lighting tower fleet is exclusively manufactured by Trime. Our overriding aim is to develop the most sustainable fleet of tower lights, hence our decision to invest in these X-ECO LITHIUM sets. The addition of a solar panel means that our clients will save fuel costs, which has become of paramount importance with the switch away from reduced-duty red diesel."
"We believe that we have one of the newest and largest fleet of lighting towers. The event side of our business is quickly getting back to pre-pandemic levels, and alongside the large increase in demand for lighting from our construction, utility, and rail clients, make us very optimistic for 2022 and beyond", added Neil.
In addition, Illumin8 have an advanced tracking system fitted to their entire fleet of lighting towers. They can see, via a connected device, the actual location of each unit and supervise how it is performing. This enables an engineer to complete basic checks such as low oil, low fuel, and low battery levels. The engineer will then report this information back to the operator for rectification before the set becomes inoperable.
Founded in 2015, Illumin8 has one of the most modern, eco-friendly lighting rental fleet available today. All their sets have been carefully selected for ease of operation, low fuel consumption, reduced emissions, together with limited noise pollution. Illumin8 sets produce bright, safe, and economical site lighting for a variety of applications including outside events, rail projects, highway working, and on construction sites. The company delivers throughout the UK and Ireland.