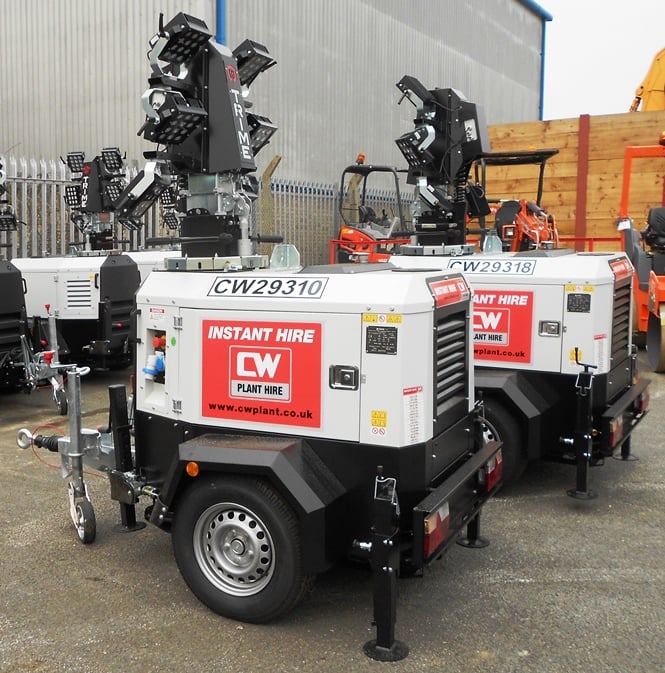 14 March 2023.
CW Plant invests in our solar and battery-powered lighting sets
Charles Wilson Engineers (CW Plant) are continuing to expand their hire fleet of our lighting towers with a further investment of one hundred X-ECO, X-ECO SOLAR HYBRID, and X-ECO LITHIUM lighting towers.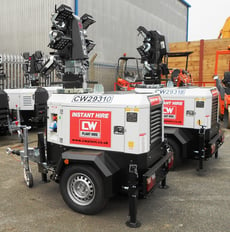 CW Plant's site lighting fleet is now entirely made up of our lighting towers, totalling 650 sets, and distributed throughout their nationwide network of 29 depots.
Graham Pollard, CW Plant Director, said, "We have taken the decision to continue to invest in the Trime X-ECO LED engine-powered lighting towers, however, this new investment also includes solar-powered X-ECO SOLAR HYBRID and battery-powered X-ECO LITHIUM lighting sets. We have noted a trend in the construction and event markets to move towards more sustainable machinery, hence this purchase. The Trime sets incorporate the most modern technology, and their environmental and fuel-saving attributes make the Trime units a very attractive proposition for our clients."
"I believe we buy the best quality and most reliable light available", added Graham.
Charles Wilson Engineers began trading in Harpenden, Hertfordshire in 1979 and the company remains a privately owned rental business. A recent merger with M&J Hire has increased their depot network to 29 which enables them to provide an even better service and support for their customers. They offer a plant hire and tool hire service in London and all across the South East, South West, the Midlands, and North West, and in the North East. CW Plant also provides PASMA and IPAF training, alongside a comprehensive line of forklift and manual handling courses. Full details can be found at www.cwplant.co.uk