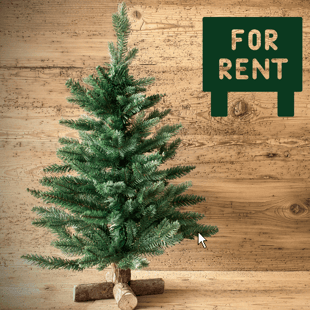 Ho Ho Ho! If your street is anything like mine you will be getting ready for the assault on the eyes with the myriad of coloured Christmas lights and inflatable Santa displays adorning house frontages...
It seems that due to lack of festivities in covid times we are still making up for it in 2022… and early! I am sure by now the lofts have been searched through and garages have been opened to find the all-important sacred Christmas decoration storage boxes, most of us will be re-using those family-tradition festive, sparkly and glittery decorations to add to our tree.
Tree Day!
You know the drill… you empty the car ready for a fun packed day of the annual choosing of the Christmas tree, excitedly you Bluetooth the "Now that's what I call Christmas" album on purpose this time (most of the time ending up as the most popular choice on shuffle) pull on your wellies and you're off! Arriving at the place already scoping out on the drive-up to the car park the best shape/most full and best-looking fir ready to fit in the space you dedicate every year to the beauty that takes hours of meticulous choosing.
Arms are outstretched holding the top of the tree whilst your loved one walks around checking it out to make sure it is perfect, not too tall, full enough at the bottom and making sure enough branches are at the top, so the star or angel isn't lonely.
Rental Really?
Would you ever stop to think about this traditional process and the impact it has on the environment? I bet for most it is a no… Here's the good news! Real trees have a far lower carbon footprint that artificial trees. According to The Carbon Trust they estimate that a 2m artificial tree has a carbon footprint of approx. 40g of CO2e and for a 2m real Christmas tree with no roots the carbon footprint is 16kg CO2e IF it ends up in landfill.
Imagine if it didn't end up in landfill… could there be a system to rent a tree? a honed, quality tree that is cared for year on year that can be kept alive and escape the perils of the landfill? Would we be happier to see a 'hire' tree that has treated us to copious amounts of oxygen throughout the year rather than the first week rigmarole of the January line-up of green bins full to the brim of needleless branches hacked up with a pair of rusty garden shears?
It seems www.loveachristmastree.co.uk agree, why not check out the process! Of course, without a doubt the best option is a potted tree that with minimal care can be replanted and re-used year after year.
As our industry has adapted to change and sourced sustainable options – is our family favourite tree next for the update?